Our most recent trip to Ohio happened a week or so ago with one goal in mind...watch Katie graduate from college. It was our (my husband was there!) longest visit to Ohio to date. (The length of our stay didn't happen entirely on purpose though...) Here is the "short," less exhausting version of our trip to Ohio.
Thursday: Arrive in Ohio about 1pm I think. We head to Easton to do some shopping...mainly to pick up Katie's graduation present from Dave and I. I had called to purchase it earlier in the week so that it would be there. Then we headed to mom's house for a bit before Maggie and I went to have our hair done. A trip to Ohio isn't complete without a trip to visit Amy, the beloved family hairstylist. I love that I can sit down in her chair and say "do what you want." She can somehow look at my hair, see what is going on with it and say let's do x,y,and z. I say "ok." An hour or so later I have a hairstyle I LOVE. (This one I truly, truly love.) I can dry it in about 5-6 minutes (drying my hair is an ordeal...I typically go through a hair dryer every 2 years or so...my nana has had the same hair dryer for like 20 year probably.) I straighten out the ends and I'm ready to go. So easy and so grown up looking. Love it.
Friday: Went to the dr so he could look at my "leg fungus." Every summer I get this stuff on the same two spots on my leg...for the past 4 yrs or so. Ugh. Good news is that the antibiotic is making the stuff go away super fast. Side effect: you burn easily in the sun. So I'm currently hiding from the sun til the fungus and meds are gone. Let's hope it doesn't come back. Doc also gave me some advice and once I have med insurance again will go further into investigating why it keeps coming back.
We also did a lot of shopping Friday. We were going to see a movie, but mom had a grad gift to make for Katie's roommate (should have taken a pic of it...but I forgot to do so...) We ended up going to bed kinda late that night if I recall.
Saturday: Graduation! We also had to pick up a Uhaul so Katie could get her bed from college to home. We were seated in the convo center about 1:30pm. We finally left there about 4pm. LOOONNGGGG ceremony. The speaker was fantastic though. The graduate's family was able to leave after their graduate's name had been called. It would have been more of a priviliege for our family if Katie's college (the College of Arts & Sciences) wasn't called dead last...and Katie was in the next to last row of graduates. Darnit! I dozed a few times while waiting for her name to be called.
Dave and I stayed in Athens that night and went to dinner with Katie's friends and then talked a lot. It was fun to talk with some of her friends.
Sunday: Drive home to mom's house. Stopped by Chantell's house to see my buddy. I miss my buddy and our long conversations in the electronics department of Sears at the crack of dawn on Sunday morning putting up sale signs. (Sears btw is not the great place it once was 8 yrs ago...looking a little run into the ground and too much like a ghosttown.) We also went to Jean's hosue for a party on the deck. Tried to go bowling (the Ohio tradition) but the bowling alley was closed by the time we got there. Which is probably why we typically bowl on Saturday nights.
Monday: Wake up. Shower. Pack. Eat lunch. Go to the airport. I try to check us in for our flight. It can't find me. Hmmm....look carefully at the flight info confirmation e-mail...leave on June #...fly back July #. What?? JULY!? Oh noooooo... So we talk to the very nice guy at the desk. He can get us back on Wed for the small fee of $150 per person. (Silently cursing myself in my head at this point, but knowing it could totally be worse. Trying to find the hidden blessing of more time with family.) I call work to see whether they can cover me til I get back. They can so we pay the $300 idiot fee and head back to Mom's house. (OSU graduation was that weekend as well which is why all of the flights were booked.)
Tuesday: Can't really remember. I think I tried to nap a bit.
Wednesday: Get up at the crack of dawn after 4 hours of sleep to fly back to AL. We get on the plane in Cbus and start to taxi down the runway and then we stop. Not cool. At all. The nice pilot says traffic is being rerouted around Atlanta and we can't leave yet due to storms in TN and NC. Ok. We pull into a runway "parking space" and they let us use electronic devices. They serve bottled water. They begin an "in flight movie." Soooo not a good sign. An hour later we fly out. This means we have missed our connecting flight, but we will automatically be booked on the next flight. Ugh. We finally land in ATL. We find that the next flight to Birmingham is still boarding. (I won't get as long of a nap before work but no biggie.) We find out that since we have checked luggage (for the nominal fee of $30) we can't board this plane and the next one leaves ATL at 1pm. (2.5 hours later more silent cursing and grumbling) That leaves no time for a nap. When it is all said and done and we are back in Alabama I have enough time to get the cats from my mil's house, go home and change, and then get to work...15 minutes late. Long day.
It took awhile to recover from this trip. We started the trip off short on sleep and even though I took a nap several days I still wound up tired. Super tired. Here are some pics from our visit.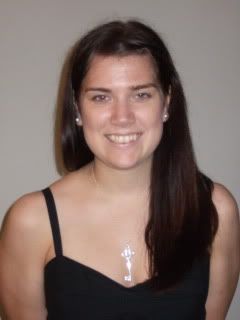 Katie & her present...a Tiffany's crown key charm (Money is nice but this will be a lasting reminder of her accomplishment and I hope she remembers how much her hard work paid off each time she looks at it.)
The whole family.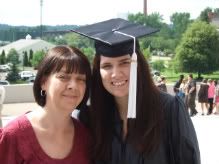 Mom & Katie. Mom is the silent support system behind all of our accomplishments. No matter what she cheers us on, even if she knows in doing so it sometimes puts more miles between us. Yet she knows we will always find out way home to visit.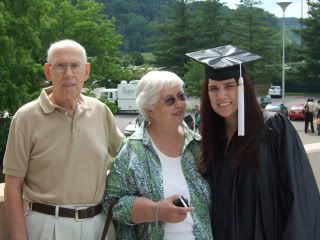 Katie & My Grandparents. (My Nana & Pap couldn't make it, but they really wanted to.)
You did it girl! Go Bobcats!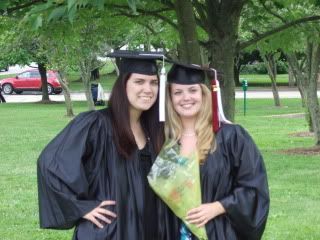 Roomies & Friends for life!
Alumni!!! Woooohoooo!